Lacemaking in Croatia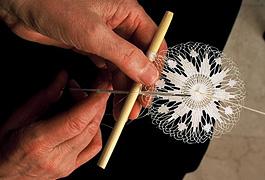 Lace is independent porous handiwork originating from the Renaissance period on the Mediterranean and western Europe. The main lacemaking techniques produce needle point and bobbin lace.
The difference between the lacemaking in European countries and our country lies in its creators. In Europe, lacemaking was in the hands of nuns, bourgeoisie and nobility, while in Croatia it was transferred from them to the hands of rural women in small villages. They have made lace for traditional clothes and furnishings.
Nowadays, there are three main centres of lacemaking in Croatia, whose work is a continuation of the long-lasting lacemaking tradition. These are: Lepoglava in Hrvatsko zagorje with bobbin lace, Pag on the Adriatic with needle point lace and Hvar with aloe lace.
The skill of making ribbon bobbin lacework from flax fibres that the rural women from Lepoglava made for decorating their garments or for sale, resulted in the making of fine lace with different forms. The Pag lace is an ornamental element first occurring in folklore textile and later as an independent decoration. The skill of making lace from aloe in the town of Hvar is specific due to the material it is made of (aloe) and its single connection to a Benedictine convent.

Download PDF version of this page